You are currently looking at the old Locomore website. More information in the FAQ.
Locomore on Tour
We'll visit the cities along the track Berlin ↔ Stuttgart and present Locomore. You can inscribe for the events on Facebook or pass by spontaneosly.
The addresses can be found below the graphics.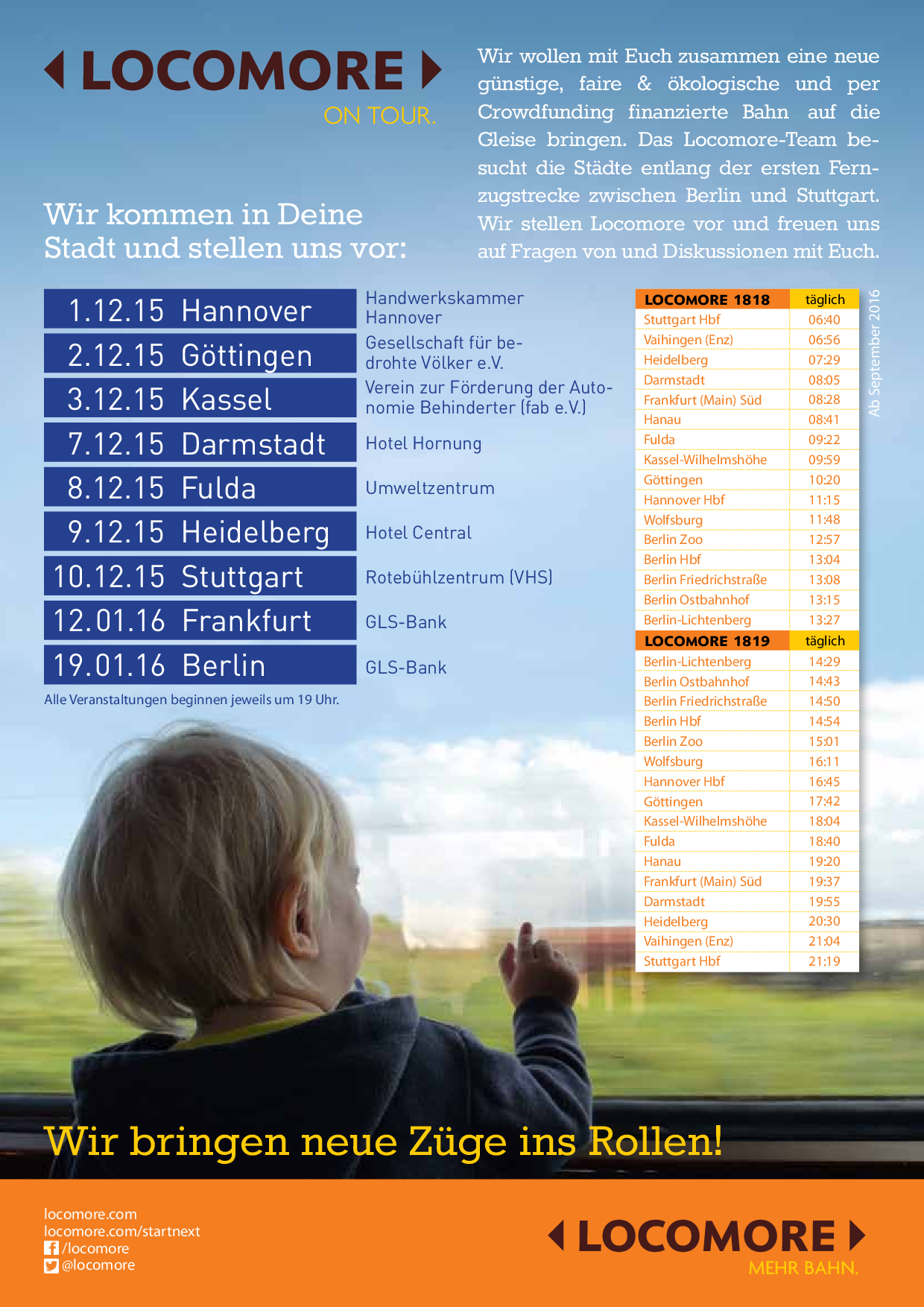 Hannover: Tuesday, 1. Dezember 2015 19:00
Handwerkskammer Hannover
Berliner Allee 17, Hannover
Marmorsaal Parterre (nahe Hauptbahnhof) (Directions) (Facebook)
Göttingen: Wednesday, 2. Dezember 2015 19:00
Gesellschaft für bedrohte Völker
Victor-Gollancz-Haus, Geiststraße 7, 37073 Göttingen (Map) (Facebook)
Kassel: Thursday, 3. Dezember 2015 19:00
Verein zur Förderung der Autonomie Behinderter (fab e. V.)
Samuel-Beckett-Anlage 6, 34119 Kassel (Directions) (Facebook)
Darmstadt: Monday, 7. Dezember 2015 19:00
Hotel Hornung
Mornewegstr. 43, 64293 Darmstadt
Directions: 4 Minuten vom Hauptbahnhof entfernt, ca 300 Meter gerade aus, dann auf der linken Seite (Map) (Facebook)
Fulda: Tuesday, 8. Dezember 2015 19:00
Umweltzentrum Fulda e.V.
Johannisstrasse 44, 36041 Fulda
Directions: Bus 3, Feuerwache oder Hainzeller Straße (Map) (Facebook)
Heidelberg: Wednesday, 9. Dezember 2015 19:00
Hotel Central
Kaiserstr. 75, 69115 Heidelberg
Directions: 150m entfernt vom Hauptausgang des HBF Heidelberg, nach rechts in die Kaiser Str. (Map) (Facebook)
Stuttgart: Thursday, 10. Dezember 2015 19:00
VHS Stuttgart
Rotebühlplatz 27, 70173 Stuttgart
Rotebühlzentrum Vortragssaal im Erdgeschoss
Directions: Haltestelle Stadtmitte; Erreichbar mit: S1-S6, U2, U4, U14, Bus 43 (Map) (Facebook)
Frankfurt: Tuesday 12. Januar 2016 19:00
GLS Bank, Filiale Frankfurt
Mainzer Landstraße 47, 60329 Frankfurt am Main (Registration) (Directions) (Facebook)
Berlin: Tuesday, 19. Januar 2016 19:00
GLS Bank, Filiale Berlin
Schumannstr. 10, 10117 Berlin (Registration) (Directions) (Facebook)