Diese Seite ist Teil des Locomore-Archivs, die Informationen sind teilweise veraltet.
News
11/3/16 — Sales Launch 11/11, Start of Operation 12/14 and review InnoTrans 2016
On Friday, November 11, we start the sales of our regular tickets on locomore.com. Ticket vouchers from startnext or from our own crowdfundingshop can then be converted into regular tickets. All tickets will include a seat reservation. Bookings can be made for journeys between 14 December 2016 and 20 June 2017.
Until our sales launch it is also possible to buy Early Bird Vouchers with extra discount on our crowdfunding shop at https://shop.locomore.com. Early Bird Vouchers for 50 € include 60 € of credit. For 100 € you can get 120 € of credit.
Currently, we focus on the start of service of our first train between Stuttgart, Frankfurt, Hannover and Berlin, on the 14th of December 2016. To strengthen our activities in marketing and sales, we are happy for further support of our crowdfunding - via buying tickets, merchandise articles or via signing subordinated loans - have a look at https://locomore.com/investieren.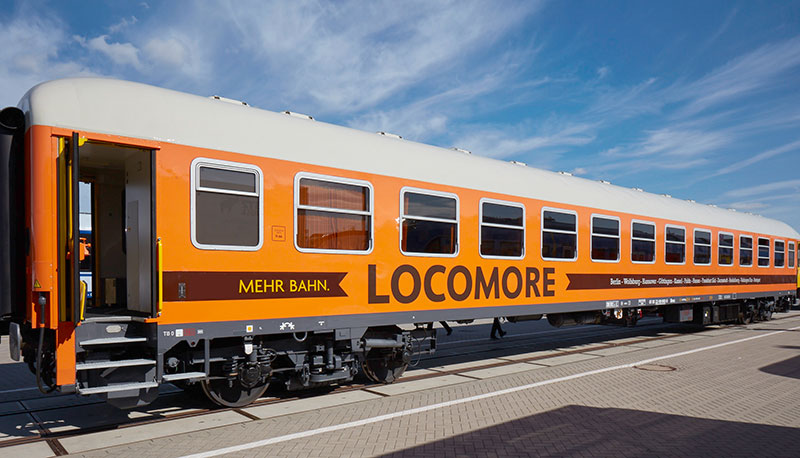 The presentation of our first coach was one of the highlights of Innotrans. Around 10 000 persons visited our exhibited coach at the world's most important trade fair for the railway industry.
Throughout the fair, we received invaluable feedback from visitors. As a crowdfunded company, it is in our DNA to take this feedback seriously to create an even better travel experience. And it's a pleasure to be in close contact with you, our fans and supporters.
See you at locomore.com or on board of our train from December 14!
All news